If the environment really does matter, why do so many construction companies continue to use diesel guzzling generators to power their sites though the day and then leave them running through the night and weekend for a security guard or to power their CCTV?
According to the UK Green Building Council, around 10% of the country's carbon dioxide emissions are directly associated with construction activities. The number rises to 45% when taking into account the whole of the built environment sector.
The graph below shows how this 45% is broken down.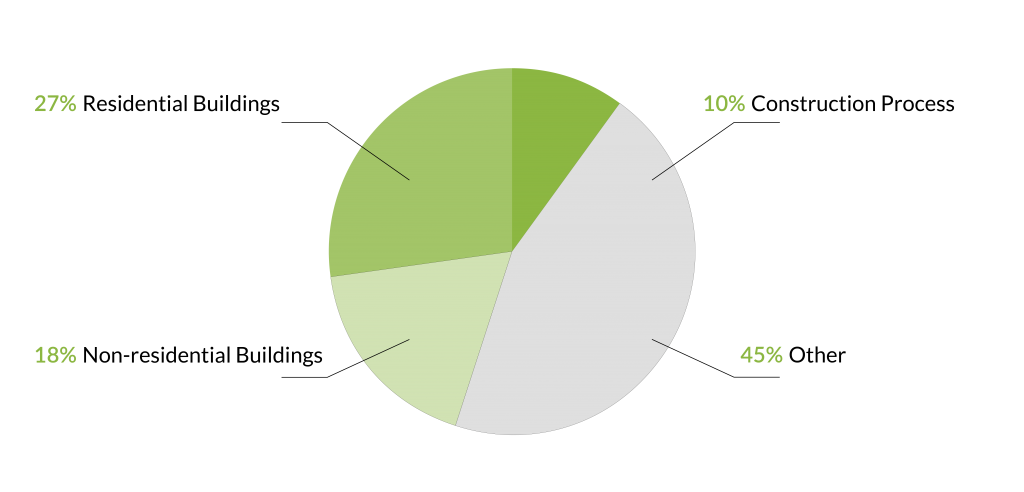 One of the Green Building Councils recommendations is the reduction and where possible the removal of diesel generators.
What if I told you that there is a solution to remove the need for a generator to secure your site, which would save you money and help save the environment, would you use it?
SmartWatch's Virtual Guard Solar CCTV can do just that!
Upon detection of an intruder, Virtual Guard alerts our control room staff who assess each activation, issue live audio warnings, contact Police and dispatch a mobile responder to incidents. Every solar tower is fitted with a micro-controller and tracking facility to allow remote power control and collect key data such as power generated and consumed for system monitoring.
The Virtual Guard Solar does not need a diesel guzzling generator to power or recharge it, it's powered free of charge, courtesy of the sun.
An equivalent 5 kva generator unit consumes 0.53 Litres of diesel per hour and generates 2.68 Kg of CO2 per hour.
The fuel and carbon savings per 168 hour week using the Virtual Guard Solar Tower, will save you 89.25 litres of diesel and will reduce your CO2 emissions by 239.19 Kg per week!
The Virtual Guard Solar CCTV allows you to remove the need of a generator and fuel for your site security, whilst saving you money and helping to save the environment.
Virtual Guard Solar is a unique, fully managed security solution for any project. The solar CCTV tower provides fuel-savings and emission reductions whilst securing your site 24 hours a day, 365 days a year.
So does the environment really matter to construction? Of course it does! We all need to work towards delivering zero carbon emission projects.
RELATED ARTICLES
Innovation
Are the FBI or MI5 watching your site?